Why is Organic Farming becoming Relevant?
With increasing awareness around leading a healthy lifestyle and understanding how fertilizers, medicines, and even artificially fortified feed and nutrients travel through fruits, vegetables, and meat into our food cycle, the demand for organic food is increasing at a monumental pace with every passing day. Additionally, India is seeing a major shift in terms of purchasing power directly related to urbanization and development. Consequently, it has become a country with one of the fastest-growing middle classes in the world, translating into an ever-increasing demand for quality fruits, vegetables, and animal products.
This implies that there is a lot of room in the market for new organic farmers and agripreneurs to capture the gap between the current demand and supply when it comes to clean, pesticide-free food that is fortified with organic and naturally processed fertilizers. The practice of growing and rearing food-based crops and livestock using non-artificial, naturally occurring and naturally processed nutrient-mixes, feed, and pest-control methods is known as organic farming.
Organic farming is the sustainable and carbon-efficient alternative to cheap, pesticide-laden farming practices which end up depleting the nutrient content of foods and potentially harming the consumer by introducing foreign, artificial, and hazardous medicines, fertilizers, and hormone-injected mutations into the food cycle.
Given the clean nature of organic yield which is relatively pricy to grow, the takers are many but suppliers few. Cost is not the only deterrent, the correct way of farming organic foods such that the returns outweigh the costs, making it a commercially viable venture, is a huge gap on the supply side of things.
The governments of states in India have identified this gap and therefore, many organic farming courses and training material is being curated by the state government-affiliated institutions working in the agriculture space. Additionally, some private players have also entered the race to make similar organic farming training modules widely available to the youth of India and make new-age agripreneurs who practice organic farming responsibly and profitably. Here is a list of some organic farming courses that you should check out:
Rocket Skills' Online Organic Farming Course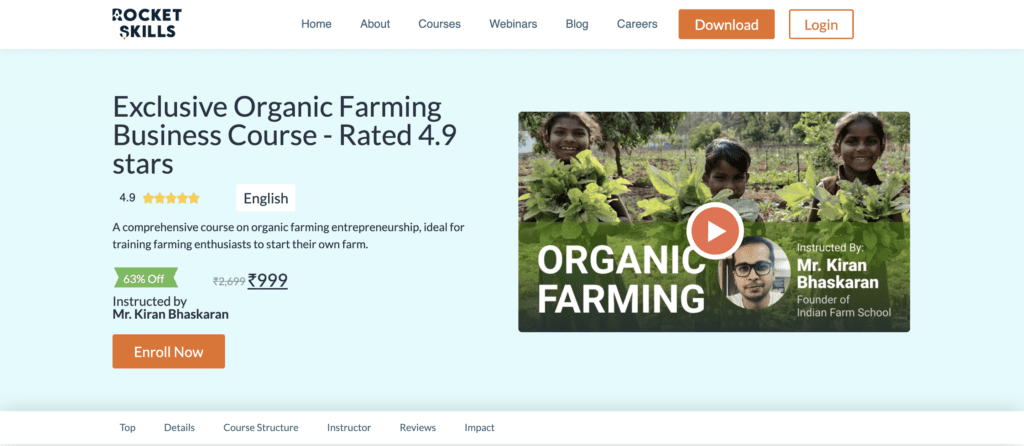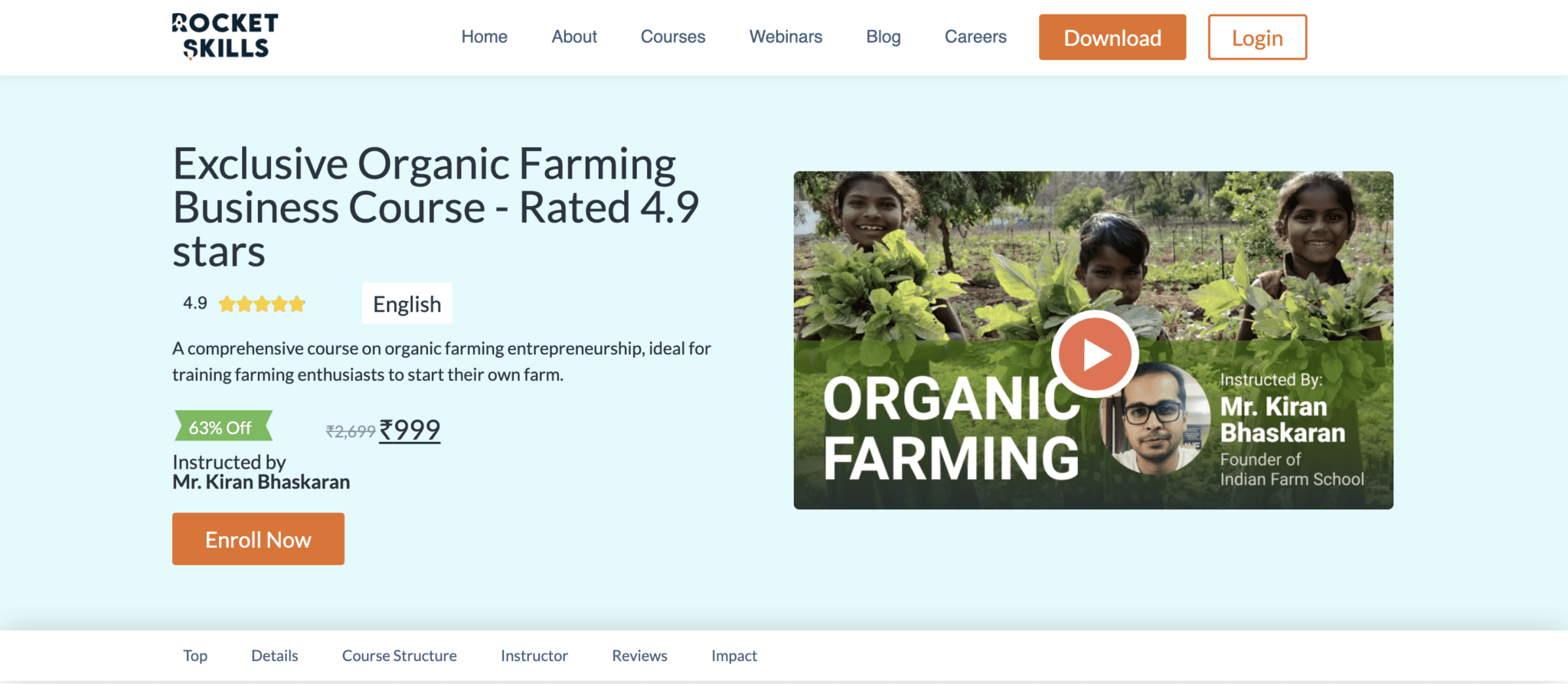 (Type – Online, Video-on-demand, E-learning)
Rocket Skills is a Gurgaon-based organization that has collaborated with experts across organic farming, hydroponic farming, biofloc fish farming, mushroom farming, dairy farming, meat farming, poultry farming, and everything in between within the agri-business space.
This MSME focussed upskilling ed-tech company is making agriculture business-based training widely accessible by providing 4 weeks to 8 weeks long online courses in Hindi and English on a mobile app. Their courses begin at Rs.499 and the best part is that you get to keep the course material with you for a lifetime. Once you complete the course, you receive a certificate of completion which is widely recognized and coveted.
They also conduct live Q&A sessions with the experts and regular webinars so that your queries can be resolved in real-time. Also, since that the course can be taken using your mobile phone or computer, you can practically learn any agriculture management skill from anywhere in the country and connect with peers who are taking the same course as you, thereby building a community of new-age agripreneurs.
Specifically talking about their organic farming course, it is facilitated by Mr. Kiran Bhaskaran and can be accessed here.
Another online option for ultra-short-term organic farming training seekers (recommended for those looking for a hobby or kitchen gardening enthusiasts) is the 2-hour long Organic Container Gardening course – priced at Rs.2240.
National Centre of Organic Farming's Certificate Course on Organic Farming
(Type – Offline, On-campus)
Implemented by the National/Regional Centre of Organic Farming (NCOF/RCOFs), this thirty days long certificate course in organic farming is introduced to create job opportunities within the organic foods sector, particularly in the area of organic food production, on-farm resource management, input production and quality control, PGS certification and marketing of organic produce.
It is a 30-day residential course and every batch accepts up to 30 participants, wherein the preferred candidates come from a rural background (even though urban farmers can apply as well). Additionally, while the target audience for this certificate course is youth and reservation is secured within these 30 seats as per the Government of India's norms in this regard, there is no bar on age, which implies that anybody, no matter how old, can apply.
IGNOU's Certificate Course in Organic Farming
(Type – Distance Learning, Guided Self-study, Open Learning)
The government of India established the Agricultural and Processed Food Products Export Development Authority (APEDA), in association with IGNOU has been offering this six-month-long distance-learning organic farming training to anyone who has passed 12th standard from a recognized institute in India, or it's equivalent. The course is priced at Rs.4800 and gives an overview of hands-on skills, certifications required, and marketing or business aspects of organic farming in India. You can learn more about this course here.
As part of this fee, you will also receive access to visit one of the study centers that have collaborated with IGNOU for this course. These centers are present in the major cities across the country, however, you should check if there is one around you before enrolling, if that is something you absolutely need.
Other such distance learning options include Certificate Course in Organic Farming by Sri Institute of Agriculture Sciences and Technology Trust, priced at Rs. 4000 for 6 months to 2 years. Access it here!
There are plenty of organic farms all over the country that have taken up the task of educating aspiring organic farmers and passing on the tips and tricks that make organic farming one of the most ethical and lucrative agribusinesses. You can consider getting in touch with local organic farms near you and inquiring if they offer on-farm training or courses if that is the kind of thing you're looking for. Else, there's always this list to come back to!