Guide to Commercial Mushroom Farming
One of the most lucrative agri-businesses that you can start with low investment and less space is mushroom farming. As an alternative source of income for many individuals, mushroom cultivation in India is increasing gradually. Worldwide, the main producers of mushrooms are the US, China, Italy, and the Netherlands. Uttar Pradesh is the leading mushroom producer in India, followed by Tripura and Kerala. 
Himachal Pradesh, Punjab, Haryana, Uttar Pradesh, Maharashtra, Tamil Nadu, Karnataka Andhra Pradesh, a major producing state of mushrooms, has recently begun commercial mushroom farming in India.
The three main types of mushrooms used for cultivation in India are button mushroom, oyster mushroom, and paddy straw. At temperatures ranging from 35 to 40 degrees Celsius, paddy straw mushrooms may grow. On the other hand, oyster mushrooms are grown in the northern plains, while during the winter season, button mushrooms emerge. All these commercially valuable mushrooms are cultivated using various methods and techniques. In special beds known as compost beds, mushrooms are cultivated.
You can also read about Hydroponics on our blog here!
https://rocketskills.in/commercial-farming-specifics-top-things-you-should-know-about/
In India, fifty percent of mushrooms are produced by marginal farmers and small production units, and the remaining mushrooms are produced by industrial institutions. In India, there are two kinds of mushroom growers, and on a small scale, seasonal farmers produce. While commercial mushroom framer manufacturing continues on a large scale throughout the year. Both usually produce white button mushrooms for your domestic market and export.
Seasonal button mushroom farmers are limited to temperate regions such as Himachal Pradesh, Jammu, and Kashmir, Uttar Pradesh's hilly areas, Tamil Nadu's hilly areas, and North Eastern areas where farmers take 2-3 button mushroom plants per year. Heavy expenditure on the construction infrastructure, purchase of machinery and equipment, raw materials, labor, and energy was required for commercial mushroom farming. A mushroom grower needs to undergo a practically oriented training program.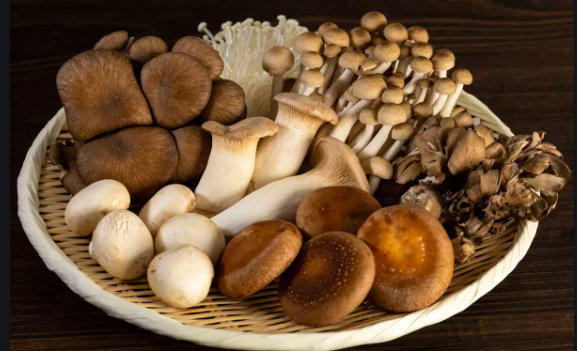 There are numerous government and NGO organizations in India that provide training for mushroom cultivation. Rocket Skills provides an excellent, affordable, and one of their most popular courses on the same that you can check out the course on Mushroom Farming! As you can see, as discussed above, mushroom cultivation is something that isn't very tough to start or do, and Rocket Skills is making it even easier by providing an affordable course right at home!
Now lets about the basic techniques to mushroom farming and an overview of how one can start it
Easy steps to quick and useful Mushroom farming-
Before starting with your own mushroom cultivation, here are some considerations you should keep in mind:
For effective participation and tracking purposes, the mushroom farm should be closer to the farmer's home. The farm should also be abundant in freshwater. Simple raw material should be accessible and available in the region of the farm.
You should also check if there is easy access to cheap, affordable, and good labor. You should also check for power availability at reasonable rates since electricity is an important input to the cultivation of mushrooms. Industrial pollutants such as chemical fumes should be part of the plant. Provision for sewage treatment should also be in place. There should be provision for the farm's future development and possible expansion. The favorable season for mushroom cultivation in India is October through March.
Now coming to cultivating mushrooms, there are five key phases in the mushroom farming cultivation process, which are:
Cropping and administration of harvest
Also, check out our blog on Modern Farming here.
https://rocketskills.in/modern-farming-the-different-types-of-farming-techniques-available-today/
COMPOSTING
Composting, which is performed in the open, is the first step in growing mushrooms. The compost yard for the farming of button mushrooms is prepared on clean, raised concrete platforms. They should be lifted so that the heap does not absorb the excess water. While the composting is done in the open, they should be protected to protect them from rainwater. The prepared compost consists of 2 forms – natural and synthetic compost. The compost is produced in trays measuring 100 X 50 X 15 cm.
SYNTHETIC COMPOST
Wheat straw, bran, urea, calcium ammonium nitrate/ammonium sulfate, and gypsum are the elements for synthetic compost. It is appropriate to cut the straw to 8-20 cm. With length. In the composting yard, it is then distributed evenly to create a thin layer. It is soaked thoroughly by sprinkling water after this. The next move is to mix with the wet straw all other ingredients such as urea, bran, gypsum, calcium nitrate and mound them into a pile.
NATURAL COMPOST
Here, horse dung, poultry manure, wheat straw, and gypsum are the necessary ingredients. It is important to finely slice the wheat straw. It is not appropriate to combine horse dung with that of other animals. Freshly collected and not exposed to rain, it must be. After the materials are combined, the composting yard spreads them evenly. On the floor, water is sprayed to wet the straws. For synthetic manure, it's heaped & turned like that. The temperature of the heap goes up due to fermentation and it gives ascent due to the escape of ammonia. This is a symbol of the compost has opened up. Every three days, the heap is turned over and sprayed with water.
FILLING TRAYS WITH THE COMPOST
The compost being prepared for a mushroom farm is dark brown in color. When the compost is filled into trays, it should not be too wet or too dry. Then spray a couple of drops of water if the compost is dry. If it's too hot, let some water evaporate. It may be the size of the trays to spread the compost according to your convenience. But, it must have a depth of 15 to 18 cm. Make sure the trays are made of softwood as well. The trays have to be filled to the edge with compost and leveled on the floor.
SPAWNING
Spawning is essentially the method by which the mycelium of the mushroom is sewn into the beds. Spawns can be purchased at a nominal price from accredited national laboratories. Spawning can be achieved in 2 ways – by spreading the compost in the tray on the bed surface or by combining the grain spawn with compost until the trays are filled. Cover the trays with old newspaper after spawning. To preserve humidity & humidity, the sheet is then sprinkled with little water. At least 1 meter of headspace must be between the top tray and the ceiling.
CASING
Casing soil is very important in mushroom farming and is created by combining the garden soil with finely crushed and sieved, rotting cow dung. On the alkaline side, the pH should be Once ready, to destroy the rodents, nematodes, insects & other molds, the casing soil must be sterilized. By treating it with a formalin solution or steaming, sterilization can be achieved. The temperature is kept at 250C for 72 hours after the casing soil is spread on the compost and then lowered to 180C. Remember that a lot of fresh air is needed for the casing process. Therefore, during the casting process, the space must have ample ventilation facilities.
CROPPING
The pinheads begin to become visible after 15 to 20 days of housing. White, small-sized buttons begin to grow within 5 to 6 days of this process. When the caps are put close on the short stem, mushrooms are ready for harvesting.
HARVESTING
The cap should be twisted off gently during harvesting. You need to grasp it gently with your forefingers for this, press it against the soil, and then twist it off. It is important to cut off the base of the stalk where mycelial threads & soil particles cling.
We have tried to provide you with all the steps to mushroom cultivation. This, combined with our other blog 'Everything about Mushroom farming in India that you must know' should give you complete information on how to go about with it and why you must start this venture now!
You can also read about Beekeeping on our blog here.
https://rocketskills.in/7-reasons-why-you-should-consider-bee-keeping/